Scholarship Fund
Noodles & Company created the Scholarship Fund awards in 2006 to provide support, inspiration and encouragement for our hard-working team members and their families who are committed to furthering their education. It is intended to give back to our community members by relieving some of the financial burdens attached to achieving their dream of a college education. We are proud to award up to $3,000 to our selected team member applicants to use towards their educational goals each year. 
The 2023/2024 application process is now open. Deadline for applications is November 10th, 2023. 
California – Notice at Collection
Image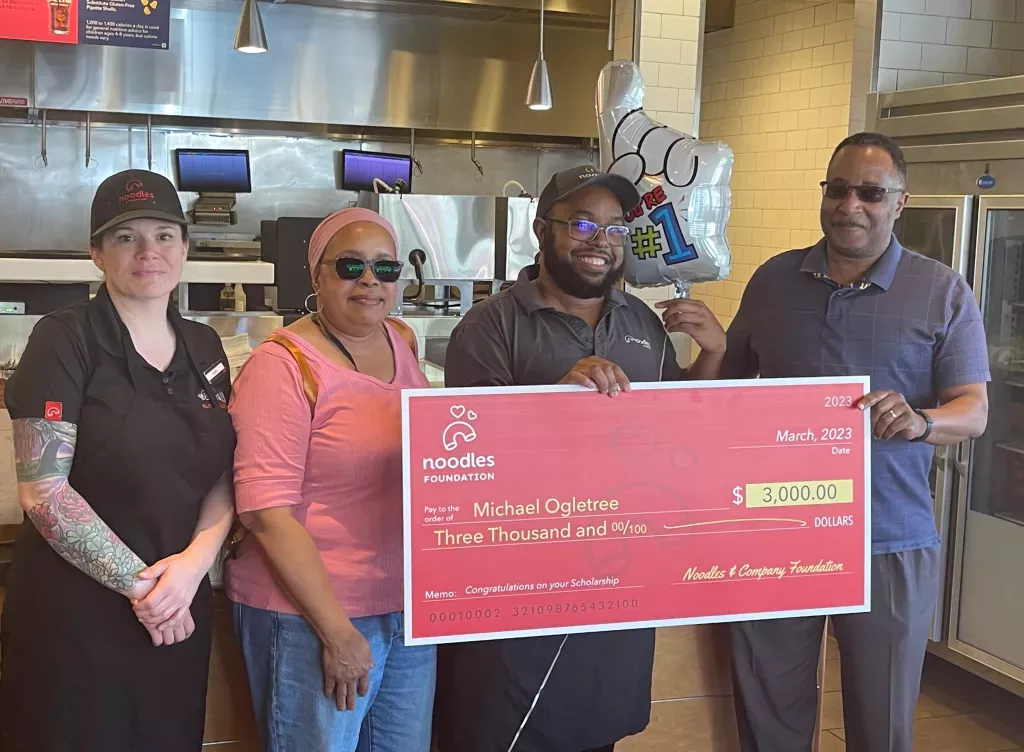 Image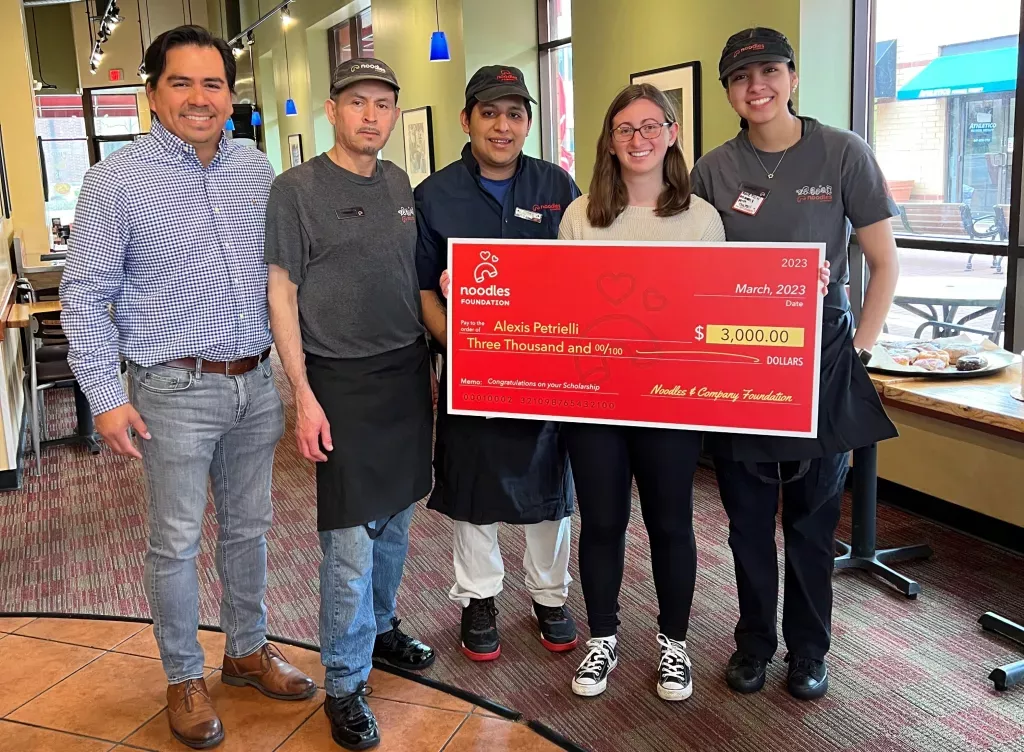 Noodles & Company
Foundation
The Noodles & Company Foundation was created to help improve the well-being of our team members by being there in times of sudden crisis, providing them and their family members educational opportunities and allowing us to give back to the communities we serve. Since inception, the Noodles & Company Foundation Giving Fund has provided nearly $470,000 to team members in need and the Scholarship Fund has provided more than $480,000 to further our team member's education goals. It is a Foundation created by our team members for our team members throughout our entire organization.
Noodles Team Members, click below to submit a grant request application.
Team Member Giving Fund
In the untimely event of financial challenges, emergency hardships or catastrophic events this fund will make a gift to the affected team member and their family. This fund supports Noodles & Company team members and their immediate families.
CRISIS SITUATIONS SHOULD MEET THE FOLLOWING CRITERIA:
IDENTIFIABLE

- The event must be described in detail in the application
DAMAGING TO PROPERTY/PERSON

- A loss of life, health or property must occur
SUDDEN

- The event must be swift and sudden, not gradual or progressive
UNEXPECTED

- An ordinary, anticipated event caused by deliberate intent will not qualify
UNUSUAL

- The event must be extraordinary and nonrecurring, and cannot normally occur in the ordinary course of day-to-day living
EXAMPLES:
Unusual medical/dental expenses caused by a severe illness/accident
Loss of home or contents due to a catastrophic event (e.g. fire, crime or flood) that is not covered by insurance
Expenses due to the death of a Noodles team member or a member of a Noodles team member's immediate family
Emergency housing expenses to prevent or immediately following eviction
APPLICATION PROCESS:
Application completed by, or on behalf of, a Team Member.
Application reviewed within 48 hours and requests for additional information and supporting documentation are sent to the Team Member.
Within 24 hours of receipt of all supporting documentation from the Team Member, the request is submitted to the Committee to review.
Within 48 hours of submission to the Committee, the applicant is notified of approval or denial.
If approved, payment is made directly to the creditor.
Contributing to the Foundation
There are two ways you can support the Noodles Foundation! (1) If you are an active Noodles team member, click here to donate via paycheck contributions. (2) If you are not an active Noodles team member, you can click the Donate button below to make a one-time contribution.
Nourishing Our Neighborhoods
Image

Since our very beginning, being involved in our communities has been one of our most important ingredients. The Noodles & Company Foundation supports the volunteer activities of our Central Support Office team members along with the thousands of team members in our restaurants nationwide. This fund gives Noodles & Company team members an opportunity to make a difference, and help nourish the neighborhoods we serve – whether it be by filling backpacks with school supplies, hosting food drives for Food Bank of the Rockies or decorating local children's homes for the holidays.
The Noodles & Company Foundation does not provide support to:
Political organizations or candidates
Capital campaigns
Programs promoting religious beliefs
Conferences, seminars or reunions
Research projects
---
Organization
The Noodles & Company Foundation is organized as a Colorado nonprofit corporation and is a 501(c)(3) public charity.
Governance
The Noodles & Company Foundation is governed independently of Noodles & Company, by its board of directors