Noodles Catering
Cater to your guests'

good taste.
Celebrate your grads with Noodles Catering. For a limited time, buy one pan get another 50% off with code
2023GRAD

.

*

From graduation parties and family gatherings to corporate events of every size, Noodles catering makes it easy to feed and delight all your guests for a price worth celebrating. The only hard part is deciding which crowd-pleasing pans to order. From start to finish, we provide everything you'll need to make events of any size a delicious success.

*Use coupon code 2023GRAD and save when you order online. Offer valid May 1 – May 31, 2023. For details, please visit noodles.com/offer-terms.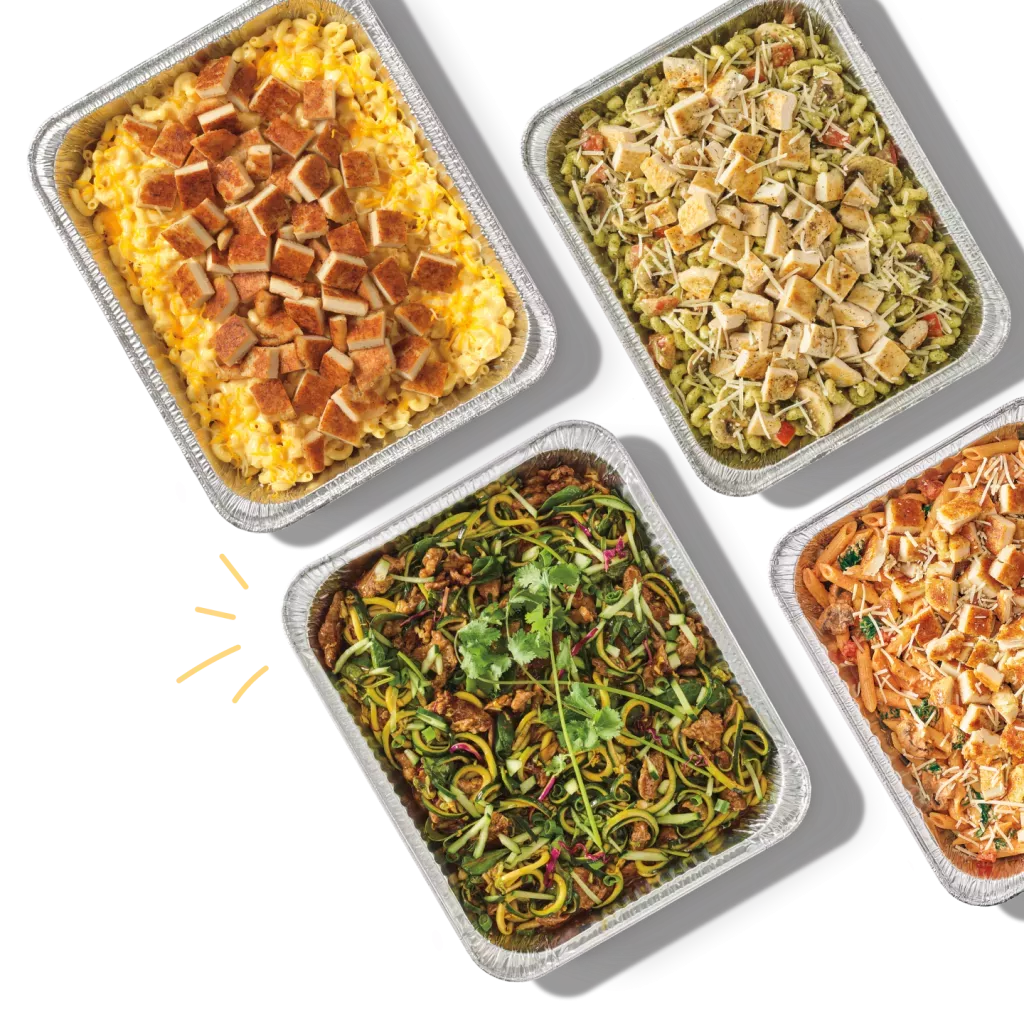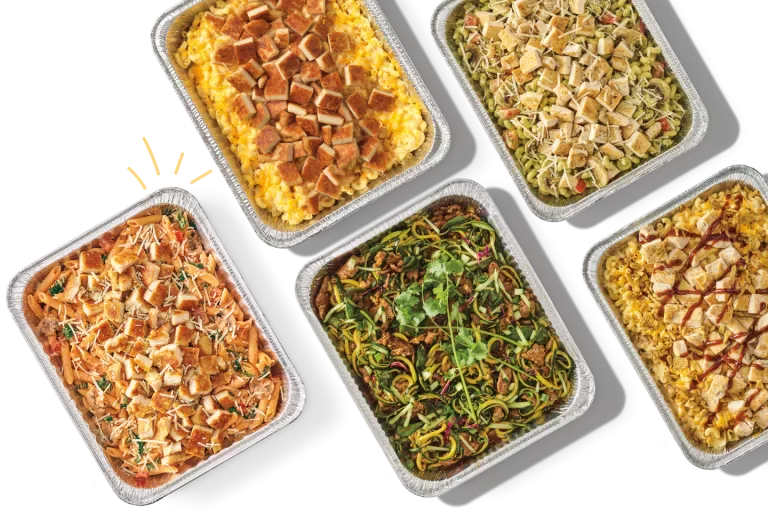 Big pans. Huge flavor. Ginormous party success.
With Noodles Catering, you can always order enough delicious Uncommon Goodness for any sized gathering. Feed up to 8 with an individual pan. Got bigger plans? We have catering packages that'll satisfy everything you need. Just click below to get started. We make it fast, easy and delightfully convenient.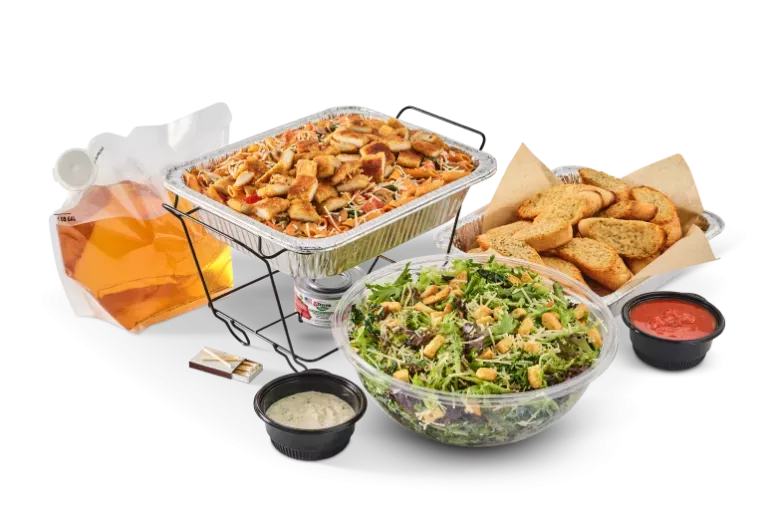 Feed The Few (feeds 10)*
Choose 1 pan
Caesar Salad
Cheesy Garlic Bread
Choose Iced Tea/Lemonade or Dessert Tray
Hot Food Hold Kit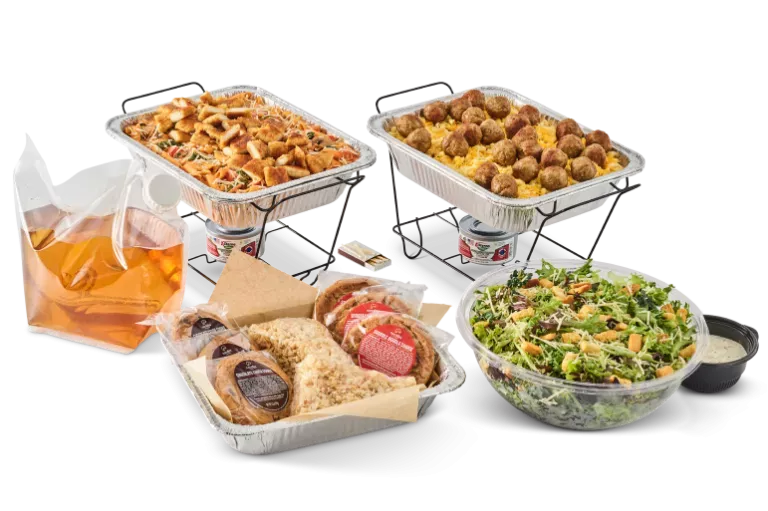 Feed The Many (feeds up to 20)*
Choose 2 pans
Caesar Salad
Cheesy Garlic Bread
Choose Iced Tea/Lemonade or Dessert Tray
Hot Food Hold Kit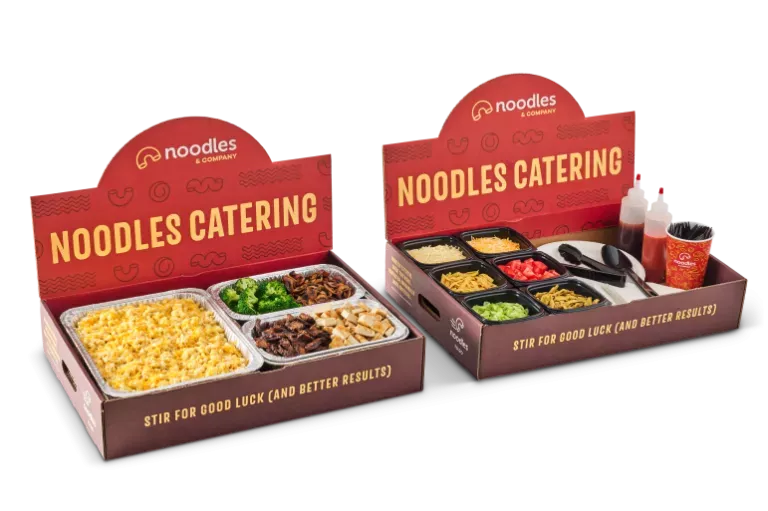 Mac Bar (feeds up to 10)*
Wisconsin Mac & Cheese Pan
Choice of 2 Proteins
8 Toppings
2 Sauces
*Includes plates, forks, knives, napkins, cups and serving utensils.
Frequently Asked
Questions
Q: Is there a catering delivery fee?
A: Yes. The fee for delivery — which also includes the convenience of set-up — is $25.
Q: How many people does a pan feed?
A: Each pan of delicious Uncommon Goodness feeds up to 8 hungry guests.
Q: Does Noodles & Company provide any food warming supplies?
A: Yes, we do. We offer a Hot Food Hold Kit for $10. And when it's returned, you'll receive a free entrée.
Q: When ordering, how much notice do I need to provide?
A: We prefer a 24-hour notice for catering orders of 2+ catering packages and 2 hours for single pans. But we know there are times when that's just not possible. Talk to the manager of your local restaurant to make special arrangements.
Q: What happens if I need to make changes after I've placed my order?
A: Plans and needs can change. When this happens, it's best to contact the restaurant that will be taking care of you and your order.
Need more info?
Pick Your Pans.
Big Pans of Fan Favorites.
Each pan feeds up to 8 people and comes with plates, forks, knives, serving utensils and napkins.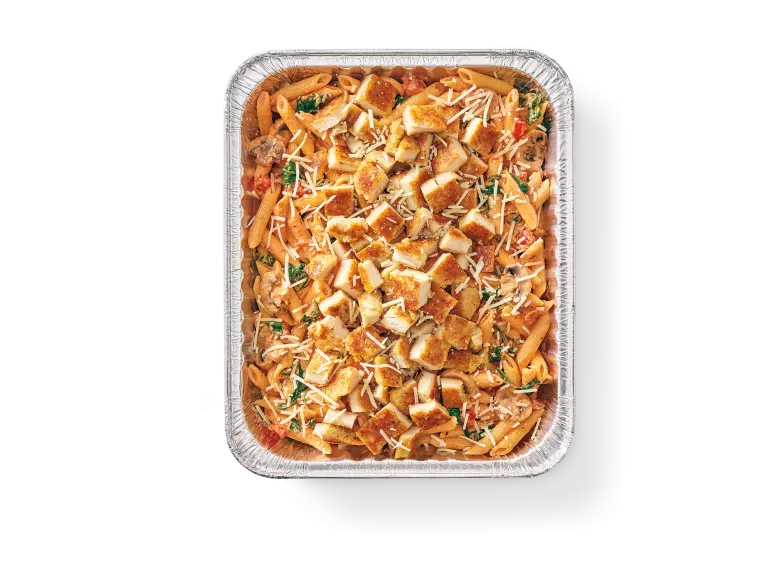 Penne Rosa
with Parmesan-Crusted Chicken
8 Servings 530 Cal • Pan 4270 Cal
Penne noodles in spicy tomato cream sauce, mushrooms, Roma tomato, spinach and parmesan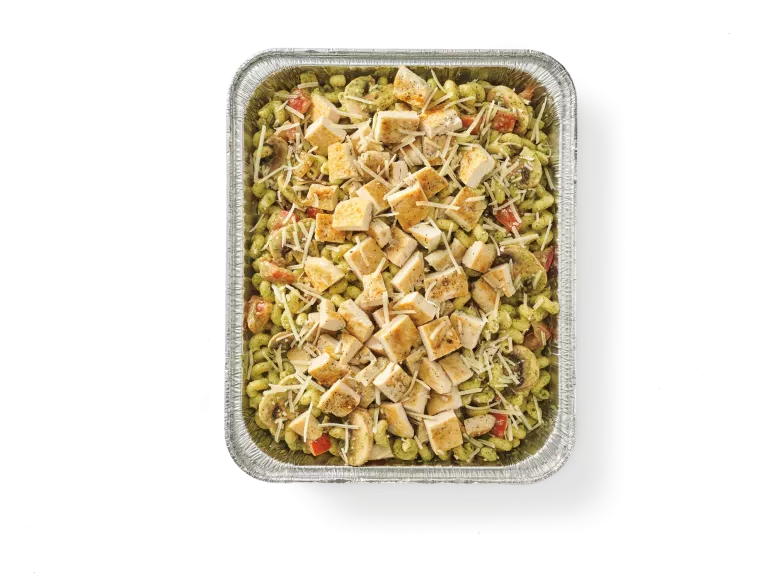 Pesto Cavatappi
with Grilled Chicken
8 Servings 680 Cal • Pan 5420 Cal
Cavatappi noodles, basil pesto cream sauce, garlic, mushrooms, tomato and parmesan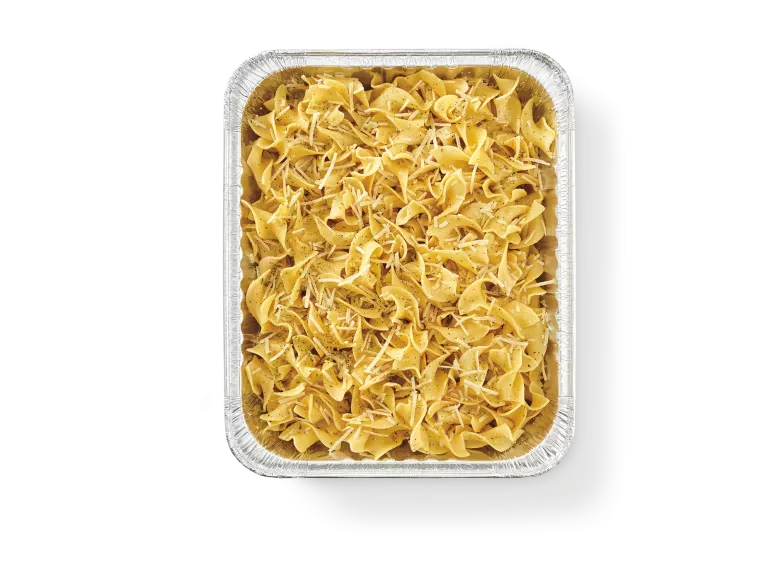 Buttered Noodles
8 Servings 570 Cal • Pan 4570 Cal
Tender wavy egg noodles, butter, Italian seasonings and parmesan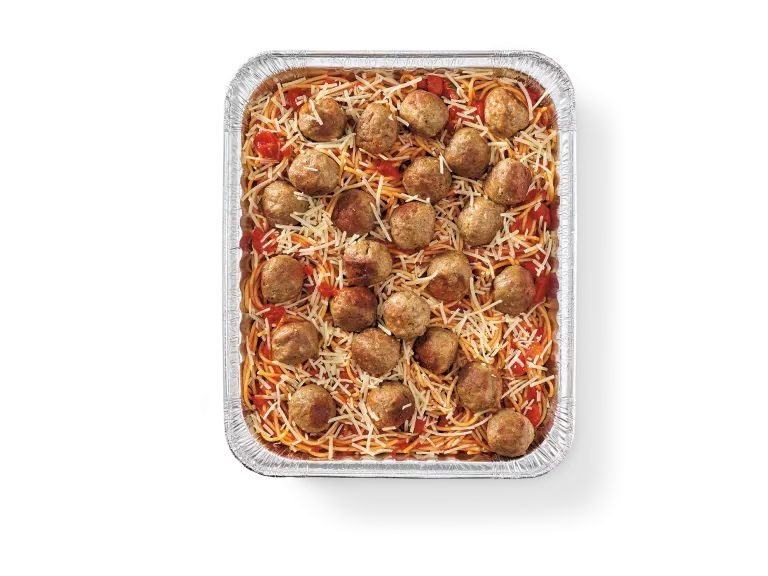 Spaghetti
with Oven-Roasted Meatballs
8 Servings 710 Cal • Pan 5650 Cal
Spaghetti, crushed tomato marinara and parmesan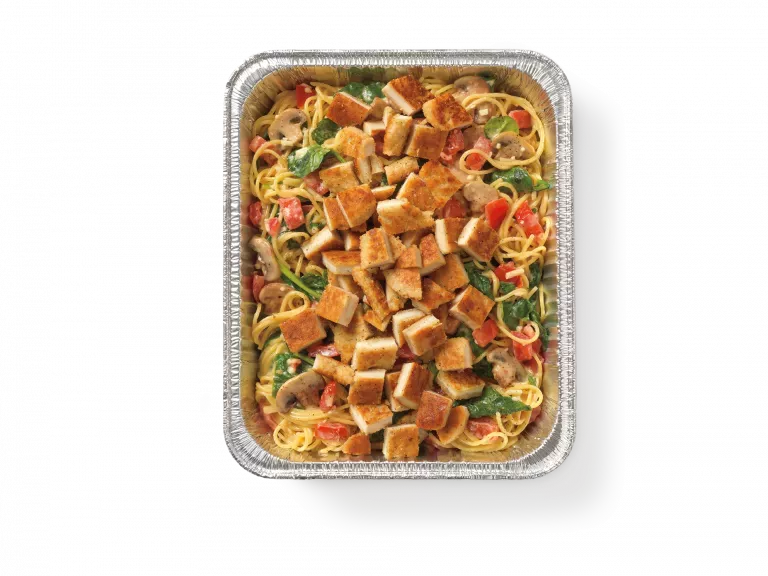 Alfredo MontAmoré®
with Parmesan-Crusted Chicken
8 Servings 740 Cal • Pan 5930 Cal
Spaghetti noodles, four-cheese blend alfredo, mushrooms, tomato, spinach, MontAmoré cheese and cracked pepper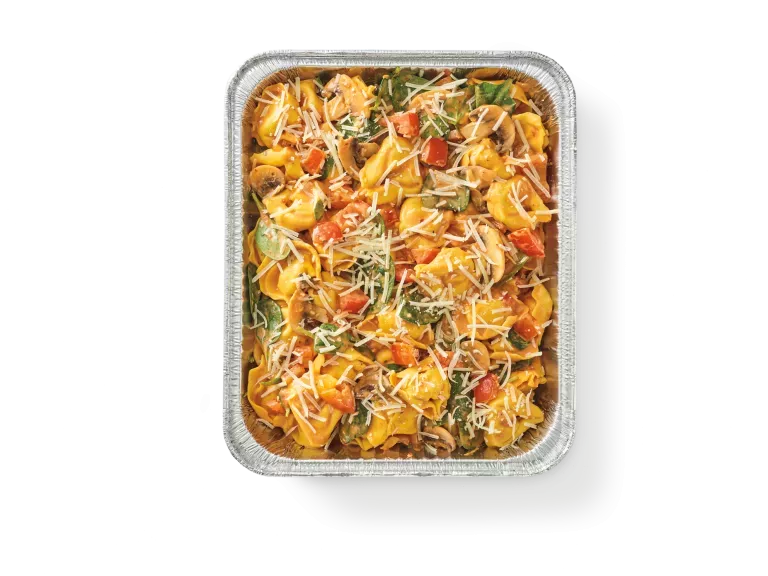 3-Cheese Tortelloni Rosa
8 Servings 530 Cal • Pan 4260 Cal
Tortelloni filled with a blend of ricotta, mozzarella, parmesan, onions and garlic in spicy tomato cream sauce with mushrooms, Roma tomato, spinach and parmesan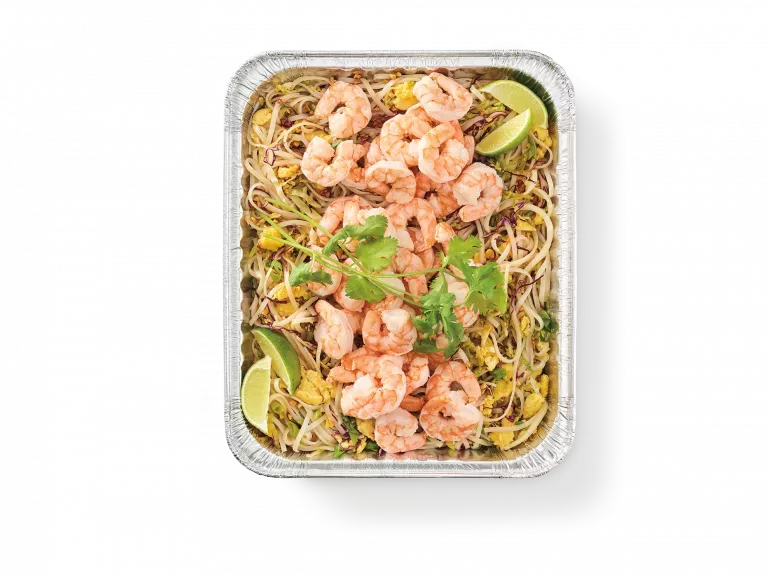 Pad Thai
with Sautéed Shrimp
8 Servings 750 Cal • Pan 6030 Cal
Rice noodles with scrambled egg, napa and red cabbage, citrus, peanuts, green onions and cilantro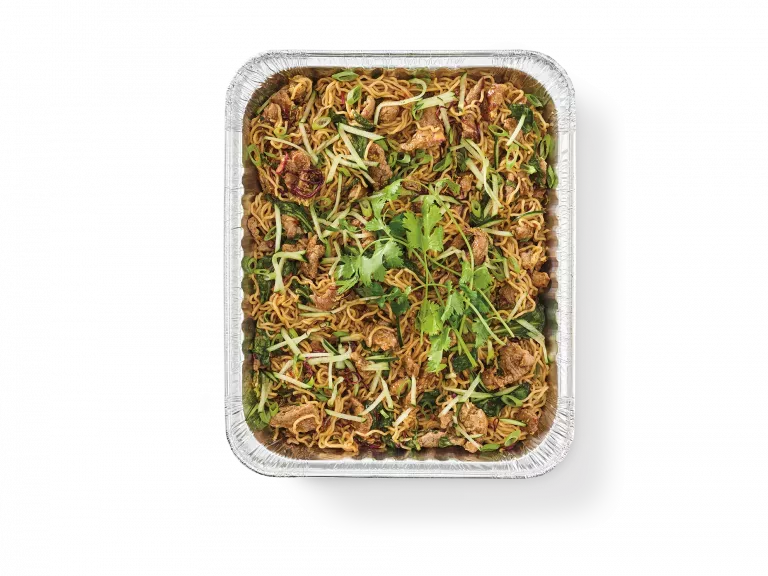 Spicy Korean Noodles
with Marinated Steak
8 Servings 550 Cal • Pan 4420 Cal
Lo mein noodles tossed with a sweet and spicy Korean Gochujang sauce, napa and red cabbage, spinach, cucumber, green onions and cilantro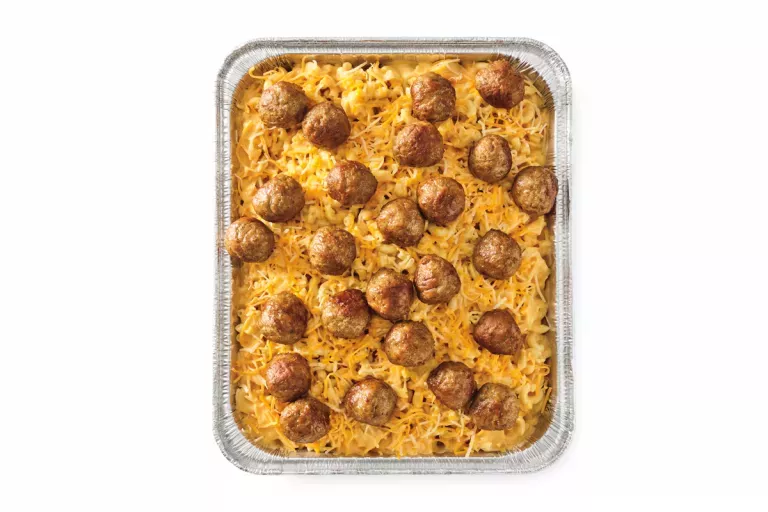 Wisconsin Mac & Cheese
with Oven-Roasted Meatballs
8 Servings 830 Cal • Pan 6670 Cal
A classic blend of cheddar and jack cheeses, cream and elbow macaroni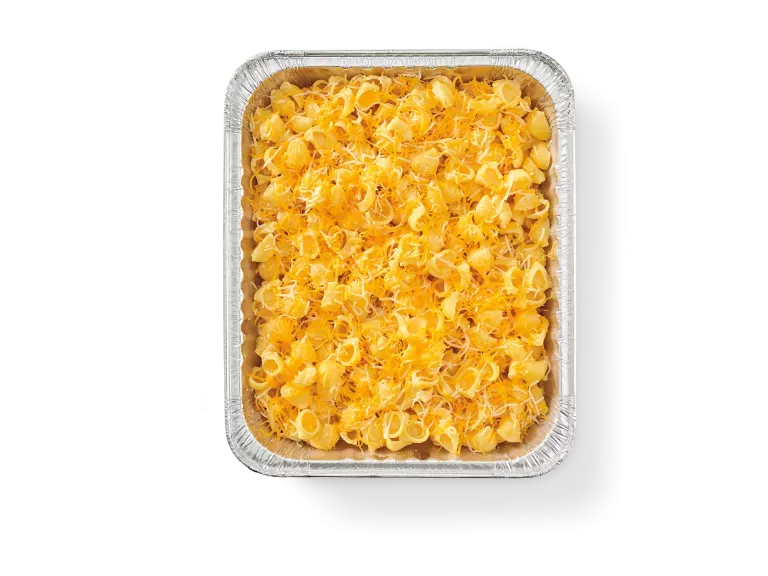 Gluten-Sensitive Pipette Mac
8 Servings 600 Cal • Pan 4790 Cal
A classic blend of cheddar and jack cheeses, cream and pipette shells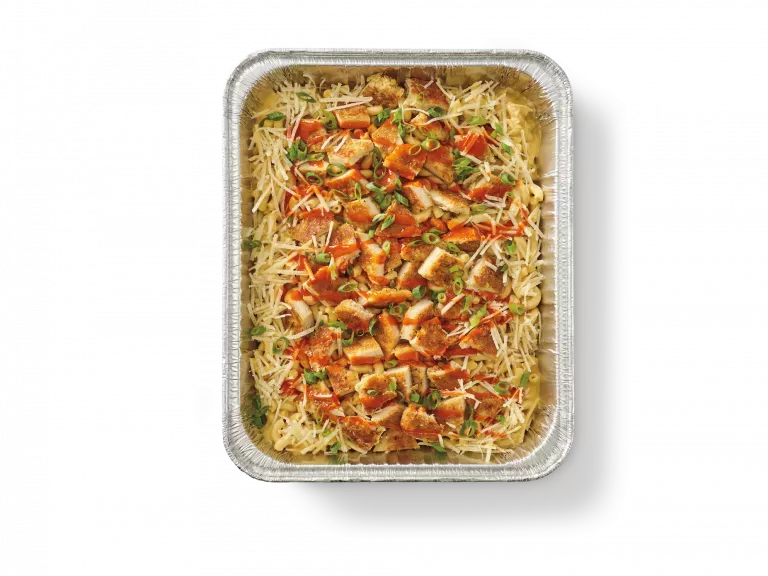 Buffalo Chicken Mac
with Parmesan-Crusted Chicken
8 Servings 720 Cal • Pan 5790 Cal
Wisconsin Mac & Cheese with Frank's RedHot® Buffalo Wings Sauce,* parmesan and green onions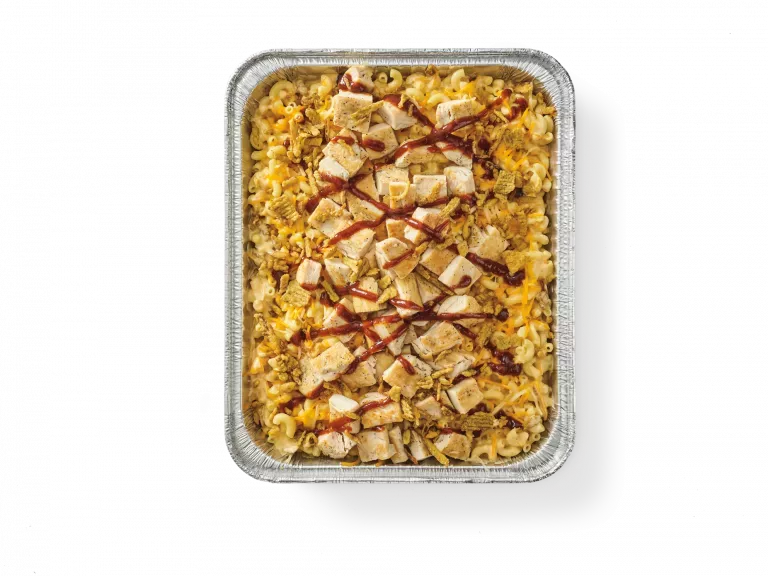 BBQ Chicken Mac
with Grilled Chicken
8 Servings 820 Cal • Pan 6530 Cal
Wisconsin Mac & Cheese with crispy jalapeños and tangy BBQ sauce
Zoodles
and
Other Noodles
---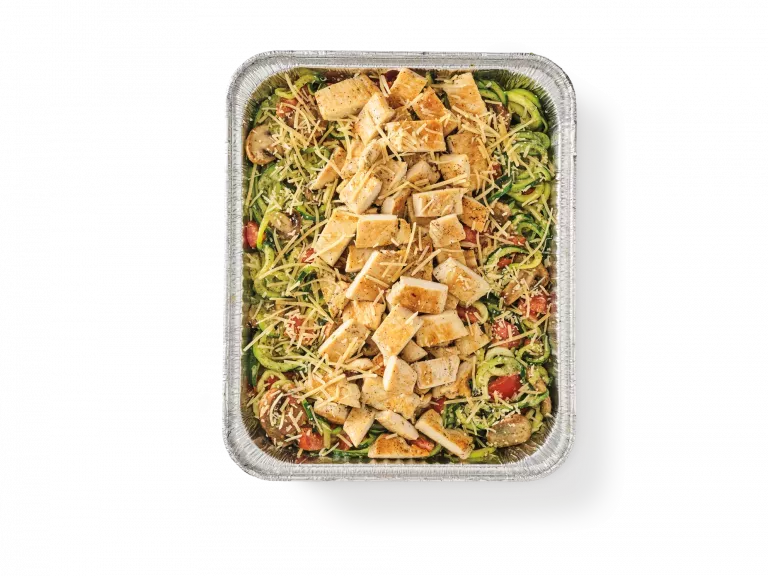 Zucchini Pesto
with Grilled Chicken
8 Servings 380 Cal • Pan 3060 Cal
Zucchini noodles, basil pesto cream sauce, garlic, mushrooms, tomato and parmesan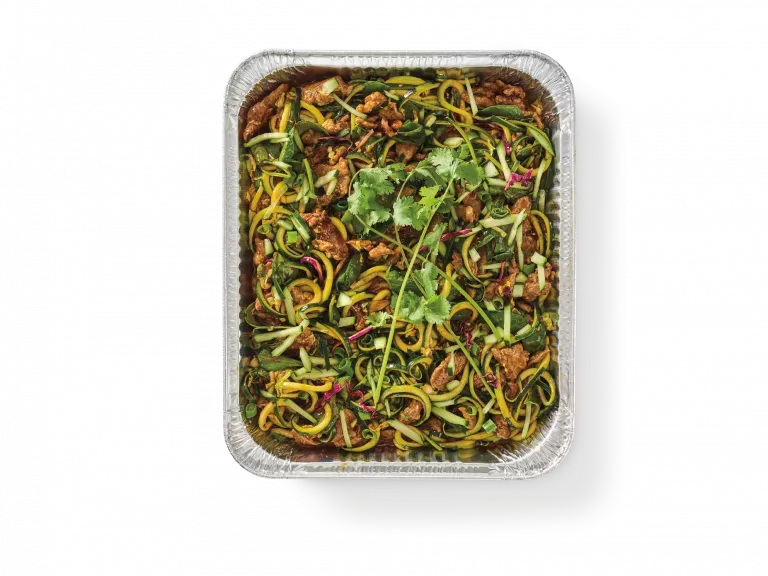 Zucchini Spicy Korean Noodles
8 Servings 217 Cal • Pan 1730 Cal
Zucchini noodles tossed with a sweet and spicy Korean Gochujang sauce, Napa and red cabbage, spinach, topped with cucumber, green onions and cilantro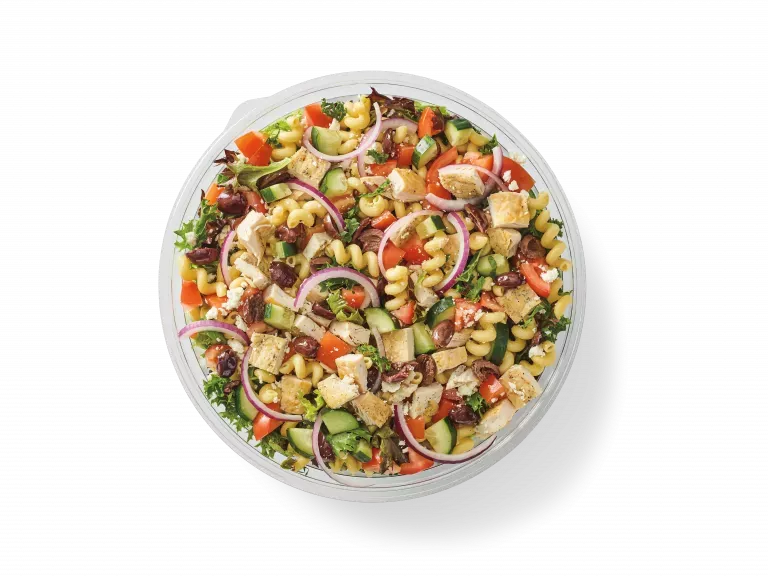 The Med Salad
with Grilled Chicken
8 Servings 320 Cal • Pan 2550 Cal
Mixed greens, tomato, cucumber, red onion, olives, cavatappi pasta, spicy yogurt dressing and feta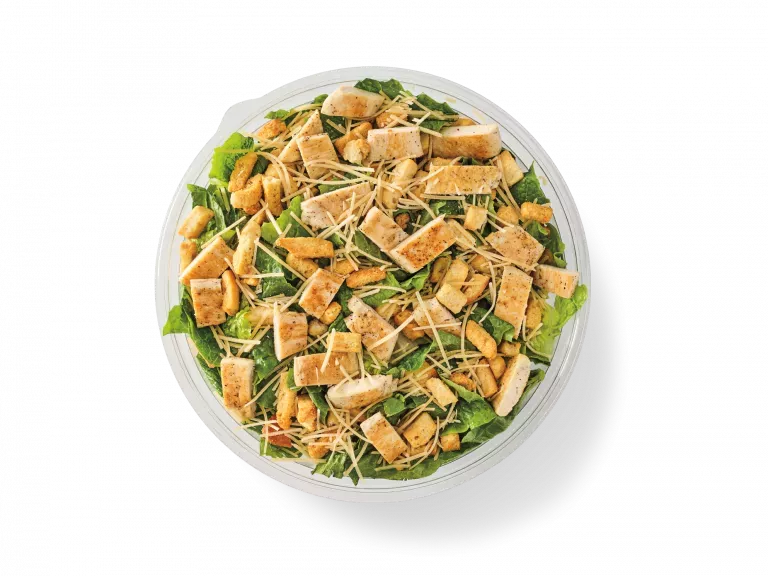 Caesar Salad
with Grilled Chicken
8 Servings 360 Cal • Pan 2900 Cal
Romaine, Caesar dressing, garlic croutons and parmesan
Drinks, Sides,
and
Dessert Tray
---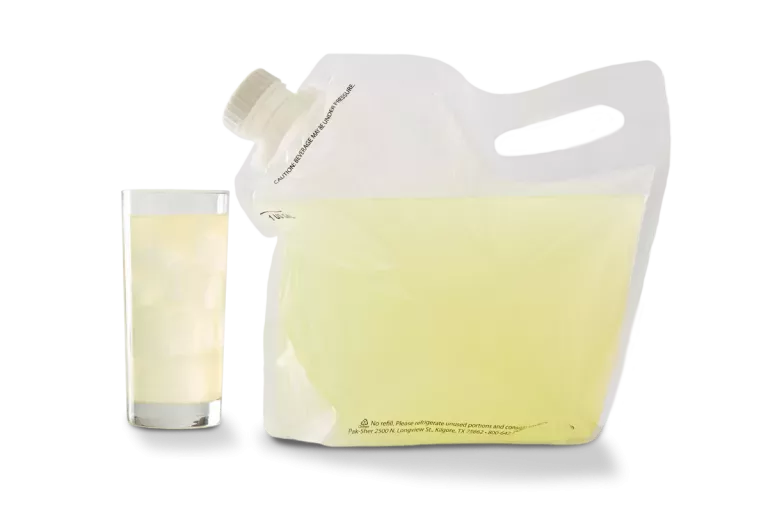 Minute Maid Lemonade
8 Servings 220 Cal
One Gallon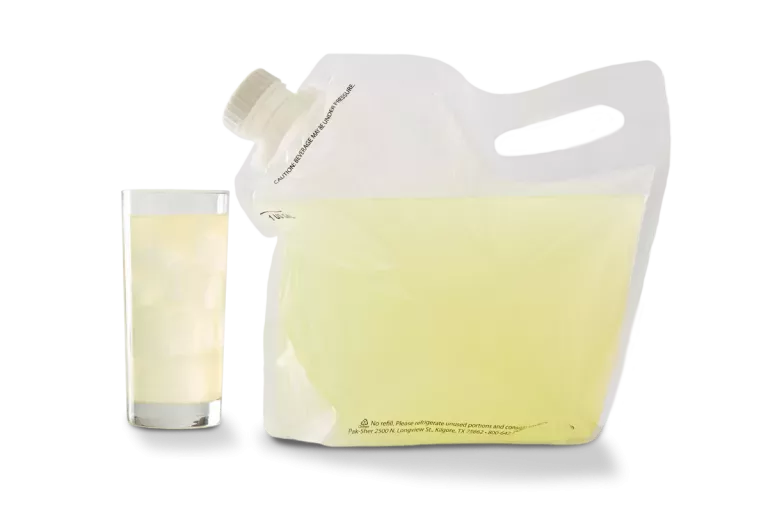 Minute Maid Light Lemonade
8 Servings 10 Cal
One Gallon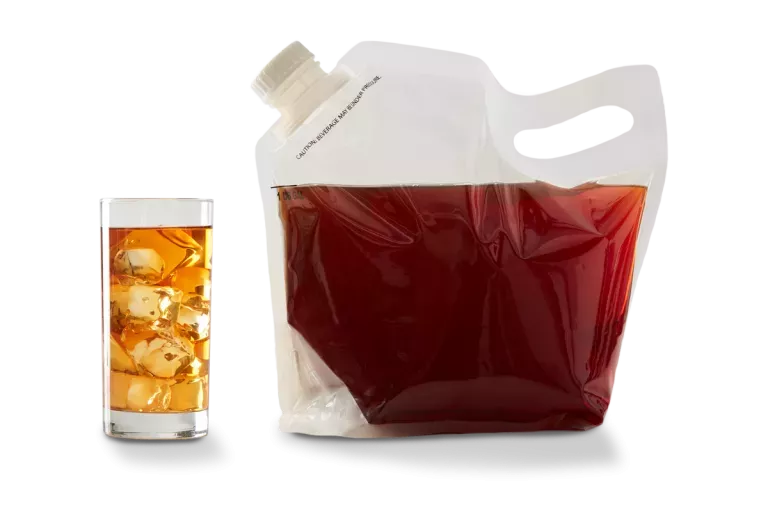 Fresh Brewed Iced Tea
8 Servings 0 Cal
One Gallon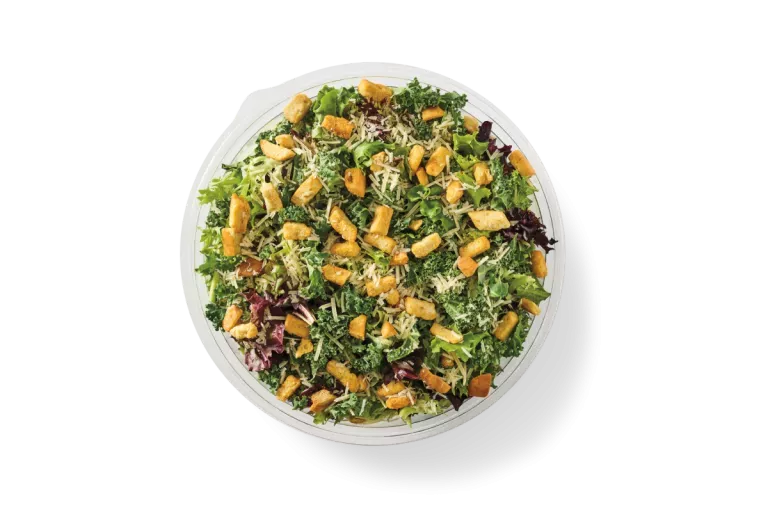 Caesar Salad
8 Servings 250 Cal • Pan 2030 Cal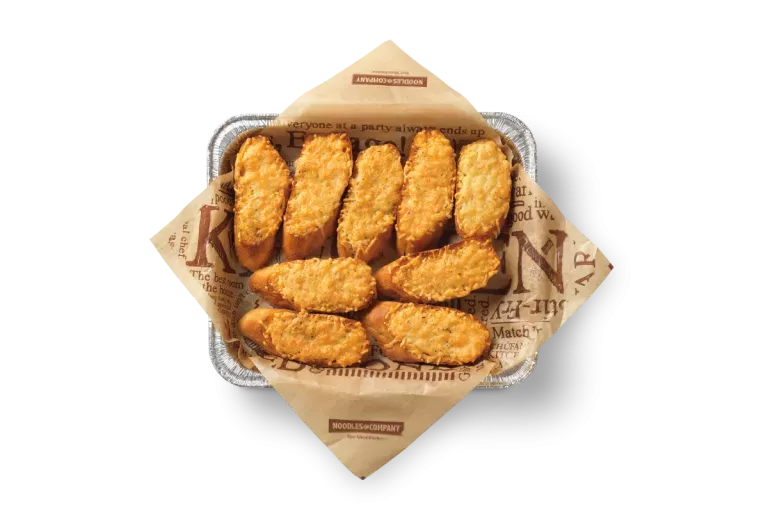 Cheesy Garlic Bread
25 Servings 120 Cal • Pan 2970 Cal
DESSERT TRAY
Includes
Chocolate Chunk Cookies 450 Cal
Snoodle Doodle Cookies 450 Cal
Rice Crispies 540 Cal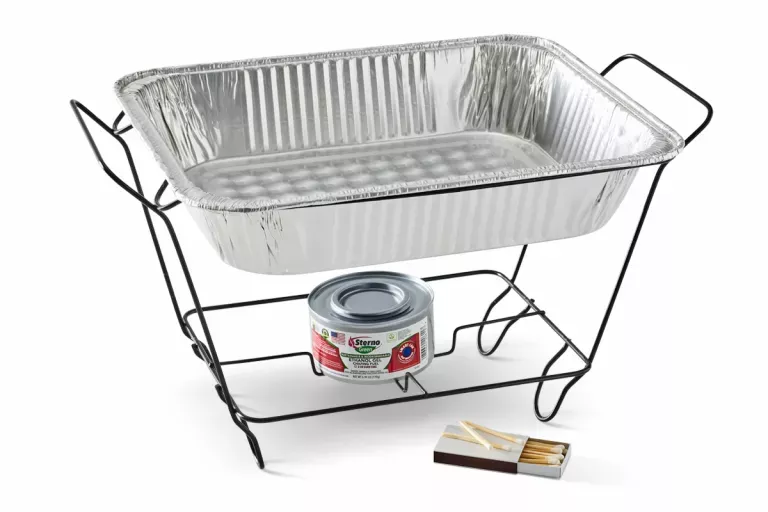 Hot Food Hold Kit
Includes Chafer Rack, Sterno, Matches and Water Pan